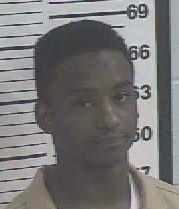 Tarrance D. Hibbler
The Tunica County Sheriff's Office has made an arrest in the April 25thshooting that occurred in the New Subdivision. Tarrance Dewayne Hibbler, 19, of Tunica has been charged with three counts of aggravated assault.
On April 25, 2014, the Tunica County Sheriff's Office was dispatched to the City Limits of Tunica in reference to a female being shot in the New Sub area. After arriving on the scene, deputies discovered that a black female had been shot and complaining of back pain. The female victim was transported to Region One Medical Center to receive medical treatment.
Hibbler was arrested on Wednesday, April 30th during the Tunica County Sheriff's Office "Safe Street Operation".
Tarrance D. Hibbler's bond was set at $75,000 and remains in custody at the Tunica County Detention Facility.
/r/C. Davis, Cmdr.