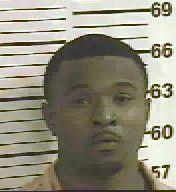 Eric. L. Brandon
On May 29, 2014, Tunica County Sheriff's Office charged a suspect in the murder of Sammie L. Dotson III.
On Wednesday, May 21, 2014, the Sheriff's Office was dispatched to 1052 Nellie Johnson in reference to shots being fired in the area. Upon officers' arrival, a male black was discovered inside a vehicle with multiple gunshot wounds. Medical personnel immediately responded to the area to provide medical assistance. The victim was transported to Baptist Desoto Hospital where he was pronounced dead from his injuries.
Eric L. Brandon turned him in to the Tunica County Sheriff's Office and was charged with murder and conspiracy. He is currently being held without bond in the death of Sammie L. Dotson III.
At this time, the Criminal Investigation Division is still investigating this incident and more arrests are pending.
/r/C. Davis, Cmdr.