Community Relations
PAW PATROL CAR
---
TRIAD
TRIAD began in 1988 when The American Association of Retired Persons (AARP), the International Association of Chiefs of Police (ICAP), and the National Sheriffs' Association (NSA) signed a cooperative agreement to work together to reduce both criminal victimization and unwarranted fear of crime affecting older persons.
Tunica County Triad consist of a three-way effort among the Sheriff, North Delta Planning and Development and the Mississippi Leadership Council on Aging/RSVP (Retired Senior Volunteer Program).
These organizations work together to reduce the criminal victimization of older citizens and enhance the delivery of law enforcement services to this population. It provides an opportunity for the exchange of information between law enforcement and senior citizens. It focuses on reducing unwarranted fear of crime and improving the quality of life for seniors. A Triad is tailored to meet the needs of each town/city/county and is governed by a senior advisory council (S.A.L.T.).
| | |
| --- | --- |
| TRIAD Fishing Redo | Sheriff Hamp helps serve at TRIAD Black History Program |
| Sheriff Hamp and Pastor Evelyn Hubbard pass out door prizes at TRIAD Thanksgiving Luncheon hosted by Sam's Town Casino | Sheriff Hamp and Chief Earl Dishmon smile as participate in 2019 Pink Party for Cancer Survivors. |
| 2020 Black History Program - Latonja Steward, Pastor Pratt, and Pastor Hubbard blessed us by leading our program, sharing God's Word, and Praise Music | Guests enjoy 2020 TRIAD Black History Program. |
The Tunica County Sheriff's Office is fortunate to have Mrs. Theodora assist our office with our TRIAD program. Mrs. Theodora helps us by calling and checking on our TRIAD seniors each day.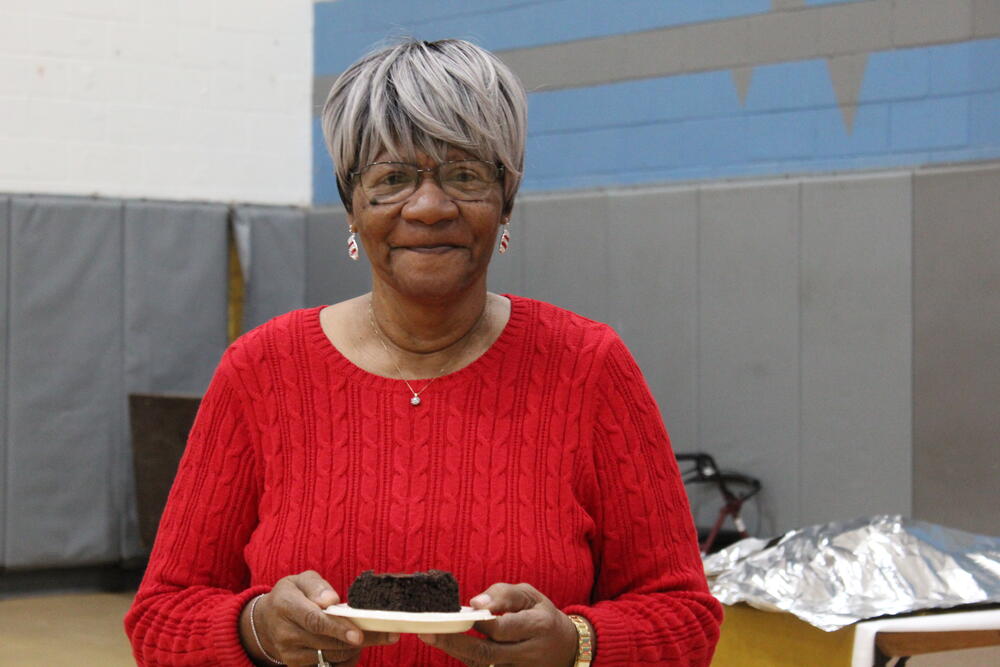 ---
Community Support - Calendar Sponsors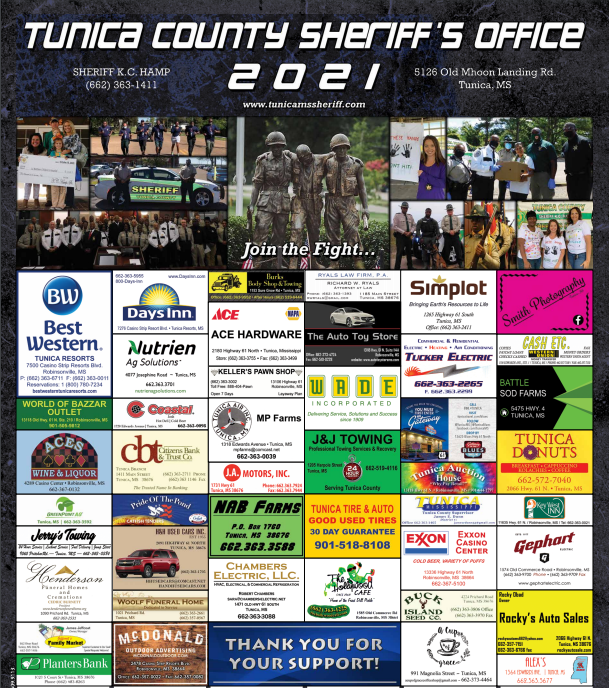 ---
2020 Coronavirus (COVID-19) Pandemic Relief Efforts
| | |
| --- | --- |
| Food distribution for Thanksgiving - Sheriff poses with volunteer. | TCSO distributes food boxes to help alleviate burdens of food insecurity caused by pandemic. |
| TCSO hosts mobile food pantry to help alleviate burdens of food insecurity caused by pandemic. | Sheriff Department delivers healthcare providers food boxes to thank for their dedication as essential workers. |
---
Seventh Annual Charity Golf Tournament
2022
On Friday, October 14, 2022 the Tunica County Sheriff's Office hosted its 7th Annual Charity Golf Tournament benefitting Le Bonheur Children's Hospital in honor of Gaines Coker at
Tunica National Golf & Tennis
.
Le Bonheur serves as the regions primary, level 1 pediatric trauma center. Being recognized among the nation's "Best Children's Hospitals" by U.S. News & World Report for 12 consecutive years, Le Bonheur is always on the side of children, advocating on their behalf so we can provide them with the care they need. From the ordinary bumps and sniffles of childhood to its most life-altering extremes, Le Bonheur Children's is prepared for whatever a child's life might throw at us.
Gaines Michael Coker, 13, of Tunica tragically left this world to enter his heavenly home on June 28, 2021. Gaines was severely burned and injured following an incident that occurred on June 27. Gaines was transported to Le Bonheur for his injuries. While Gaines was only at Le Bonheur for a few hours before being transported to another hospital for care, the care he and his family received is the outstanding kind of care that sets this hospital apart from any others.
Le Bonheur is more than four walls of any ordinary hospital.
His mother Meg shared, "The team at Le Bonheur was so compassionate. There was a chaplain and nurses who prayed over Gaines. There were doctors who told us it was bad, but not to give up hope. There were even kind people that put together a bag of snacks and drinks for us to have on the way to Little Rock. This opportunity to repay this level of kindness through raising funds via the Sheriff's Golf Tournament in Gaines honor is awesome."
Meg spoke of how Gaines was raised to be a public servant, similar to Sheriff Deputies through his time as a Boy Scout. On a particular field trip with the Boy Scouts, Gaines had the opportunity to visit the Tunica County Sheriff's Office and explore the grounds, jail, and patrol cars. His mother remembers most Gaines coming home and telling her, "You know those deputies do a lot more than just drive those cars and turn on those lights and sirens."
We appreciate the Coker family for sharing what Gaines observed about our crew at a young age. It is an honor of the Sheriff's Office to serve our community above and beyond the call of duty. This tournament is a way for us to come together and share part in raising funds to make a difference for the community, for families, for victims, and for those struggling individuals stumbling through the very worst days of their lives that are given the gift of life or hope from Le Bonheur.
Thank you to every single individual, business, and partner that donated to our cause. This was our most successful event yet and we owe that all to you all for your support.
| | |
| --- | --- |
| Participants of 2022 tournament. | 2022 Tournament Winners |
| Sheriff Hamp speaks to participants with Coker Family. | During the initial presentation, Tunica County Sheriff's Office presented LeBonheur with a check for $10,000. Fitzgerald General Manager, Tony Scudiero, pledged to double TCSO's donation. In total TCSO and Fitz gave LeBonheur $20,000.00 in donations. |
---
Car Seat Distribution Partnership
Did you know that three out of four car seats in the U.S. are installed incorrectly? It's shocking, but it's true. And while cars and trucks are safer than ever, motor vehicle crashes remain one of the leading causes of death for children.
However, we know that proper use of car seats and booster seats can help prevent many child injuries and deaths. That's why we are thrilled to announce our partnership with Buckle Up for Life, a national car seat safety program from Toyota USA and Cincinnati Children's Hospital Medical Center.
Together, we will teach parents, caregivers and children about the proper use of car seats and seat belts and provide free car seats to families in need. During the program, trained specialists will work closely with families and caregivers to educate them about all aspects of car seats, booster seats and seat belts. Participating families in need will receive free car seats and will be matched with certified child passenger safety technicians to learn how to install them properly.
On Tuesday, August 18, 2020 the Tunica County Sheriff's Office's Child Passenger Safety Technician, Captain William Smith, conducted a car seat presentation and installation with one of our local, child care community partners. We take pride in ensuring and knowing that even the youngest and smallest of passengers on our county roadways are safely restrained.
| | |
| --- | --- |
| Officers and Owner of Local Daycare, Phyllis Hibbler, pose for photo with donated car seats thank to partnership with Toyota and Cincinatti Children's that provides car seats to those in need. | TCSO Certified Car Seat Technician, Captain William Smith, shows guardians who to properly install car seats and restrain children in their correctly sized seat. |
---
Clothesline Project
The Tunica County Sheriff's Office hosted its first ever Clothesline Project in Tunica County on October 13-15, 2020 in Downtown Tunica at the Marketplace.
The Clothesline Project is a powerful visual display that is a vehicle for people affected by violence to express their emotions by decorating a shirt. The shirts are hung on a clothesline to be viewed by others as testimony to the problem of violence. The Tunica County Sheriff's Office honors the month of October as Domestic Violence Awareness Month. This event helped us shine light on all types of violence, and highlight acts of domestic violence that occur in our community.
Violence can be defined as:
The intentional use of physical force or power, threatened or actual, against oneself, another person, or against a group or community, that either results in or has a high likelihood of resulting in injury, death, psychological harm, maldevelopment or deprivation.
The Purpose of the Project is to:
Create awareness of the experiences of victims and survivors of violence.
Assist in the healing process for people who have lost a loved one or are survivors of violence.
Educate and raise society's awareness of the problem of sexual and domestic violence.
Provide a nationwide network of support and information for other communities starting their own Clothesline Project.
We are thankful for the participation and support shown for this project in our community. From young to old and various walks of life, we had 162 shirts painted and displayed on our Clothesline.
Christmas Blessings 2020
The year 2020 was hard on all, many families experienced extreme hardships and tragic loss. The Tunica County Sheriff's Office was fortunate to bless children of families in various circumstances this Christmas season. Thanks to donations from Friends of the Sheriff, we were able to go beyond the call of duty to give back to the community just in time for the holidays.
The first family pictured below suffered an unbearable loss of their mother, whose life was claimed by the deadly virus, COVID-19. She leaves behind an 11 year-old son and a 2 year-old daughter. The second family pictured below suffered great tragedy when their mother passed away suddenly, and unexpectedly. She leaves behind her newborn baby girl, a 9 year-old daughter, a 14 year-old daughter and two sons, ages 8 and 11. As they cherish the memories of each of their mothers, we hope you will lift them in prayer in the coming days. It was a true privilege to be able to gift these children with Christmas joy and gifts as they endure their first Christmas without their mothers.
TCSO Participates in Wear Red Day
The first Friday each February, American Heart Month, the nation comes together, igniting a wave of red from coast to coast.
From landmarks to news anchors, neighborhoods to online communities; this annual groundswell unites millions of people for a common goal: the eradication of heart disease and stroke.
This campaign to raise awareness about heart disease in women.
The national campaign urges women to learn their risk for heart disease and to take steps to lower their risk. What increases a woman's chances of heart disease?
Smoking
Sedentary lifestyle
Family history
Diabetes
Stress
Inflammatory diseases like rheumatoid arthritis and Crohn's
Complications during pregnancy
Menopause
We can prevent or reverse many of these risks by taking action. Speaking with our physician also helps to further lower our risk of heart attack and stroke by making and following a plan.
Quit smoking. Ask for help if you need it. Your physician has many tools at her side to make quitting a success.
Change your lifestyle. Become more active and improve your eating habits. This will help with many risk factors including stress, family history, and other health conditions.
Get routine physical exams.
Heart disease and stroke kill one in three women. These diseases are 80 percent preventable according to Go Red for Women's official website.