Office of the Sheriff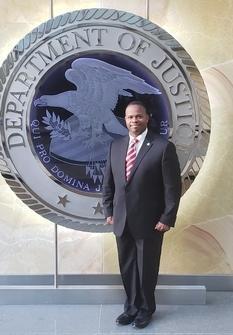 Tunica County Sheriff Calvin "K.C." Hamp, known since childhood with the reversed initials K.C., is a native of Tunica County, Mississippi. K.C. is an active member of Union Street Church of Christ, where his brother, Sylvester Thomas Jr., is Pastor. He is married to Patonya Price-Hamp and has four children, along with grand-children.
Sheriff Hamp was elected to his fifth term as Sheriff in November of 2019. While approaching the end of his 5th term, he is the longest serving and youngest elected in the History of Tunica County. Sheriff Hamp is a graduate of Rosa Fort High School and holds an Associates of Arts degree from Coahoma Community College. He attended the University of Mississippi to obtain his Bachelor of Science Degree in Criminal Justice; moreover, his training and education is ongoing.
K.C. began working with the Tunica County Sheriff's Office in 1994 and started his career in law enforcement as a Deputy Jailer for a year, before transferring to the Enforcement Division. Before seeking the Office of Sheriff of Tunica County at the age of 28, his assignments have included Patrol Supervisor, Auto Theft Investigator, D.A.R.E. Officer, and Internal Affairs Investigator.
Sheriff Hamp is an organizer of the Tunica County T.R.I.A.D. and is a member of the National Sheriffs' Association, Mississippi Sheriffs' Association, FBI LEEDA Association MS D.A.R.E. Association, Tunica County Literacy Council and Tunica County 10-Point Coalition. He has over 28 years of service in Public Safety/Law Enforcement.
Sheriff Hamp was appointed by Mississippi Governor Haley Barbour to the following state boards: Mississippi Crime Stoppers Advisory Council, Byrne-JAG Drug Task Force Committee and Mississippi Trauma Advisory Committee, in which his appointment with the Mississippi Trauma Advisory Committee has continued under Mississippi Governor Phil Bryant and Governor Tate Reeves. He also serves on the Mississippi Safe School Initiative Task Force, D.U.I. Advisory Task Force Committee, Mississippi Department of Corrections Oversight Task Force, Asset Forfeiture Task Force, Mississippi Child Death Review Panel, Jail Detention and Correctional Committee, Legislative Committee, Attorney General Advisory Committee and has served as the 3rd Vice President, 2nd Vice President and the Vice President of the Mississippi Sheriffs' Association before being elected President of the Mississippi Sheriff's Association in 2016-2017. Recently appointed to the (O.I.S.) Officer Involved Shooting Task Force for Our State.
K.C. has been a volunteer funeral director with Henderson Funeral Home in Tunica, DeSoto and Panola Counties for over 30 years. He feels this is an opportunity to serve and interact with people in a time when they need a friend the most.