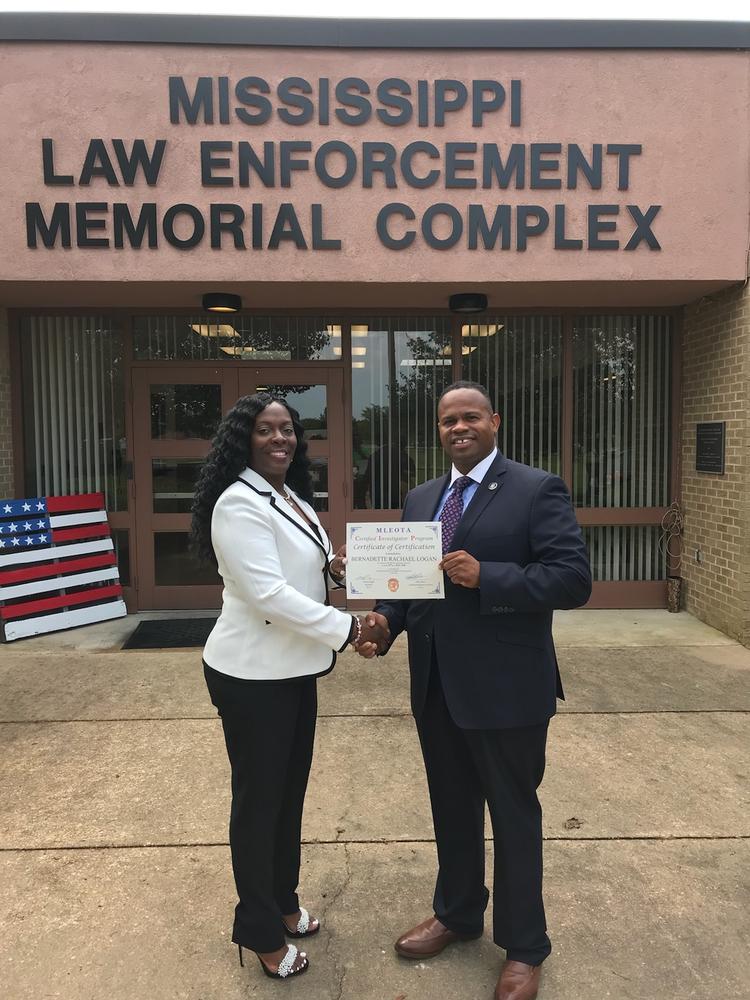 Sheriff K.C. Hamp congratulates Captain Bernadette Logan on the completion of the Certified Investigators Program
CONGRATULATIONS to Captain Bernadette Logan for completing 400 hours (10 weeks) of training and graduating from the Certified Investigators Program at the Mississippi Law Enforcement Officers Training Academy on May 17, 2018.
Captain Logan is the Training Officer for the Criminal Investigations Division, Patrol Division, as well as, some functions of the Jail. Captain Logan as a wide range of certifications, including but not limited to: National Center for Biomedical Research and Training; Law Enforcement Prevention and Deterrence of Terrorist Acts; Rapid Response to Active Shooting Training; Basic Crisis Negotiation; Domestic Violence Laws and Victim Rights; Domestic Violence Sexual Assault Investigations; Sex Offender Workshop; Police Officers Engaged Shooting and Survival; Mexican Cartel Investigations; Executive/Force Protection Training through the Mississippi Office of Homeland Security; Gulf Coast HIDTA Training concerning Gangs, Drugs and Murder; Courtroom Testimony; Homeland Security Incident Command; Crimestoppers, Mental Health and First Aid; Cyber Investigations, Project Lifesaver; Sexual and Workplace Harassment; ALERT/Terrorism through Mississippi Office of Homeland Security; Interviewing and Interrogation; MS Law Human Trafficking; MS Organ Recovery; Autopsies through MS Medical Examiners Officer; De-escalations/Victimology through the MS Attorney General's Office; Tourniquet Training; Cold Case Investigation and she also serves of the F.B.I. Task Force.
Captain Logan began her law enforcement career in Tunica County in 2008.