8th Annual Charity Golf Tournament
09/18/2023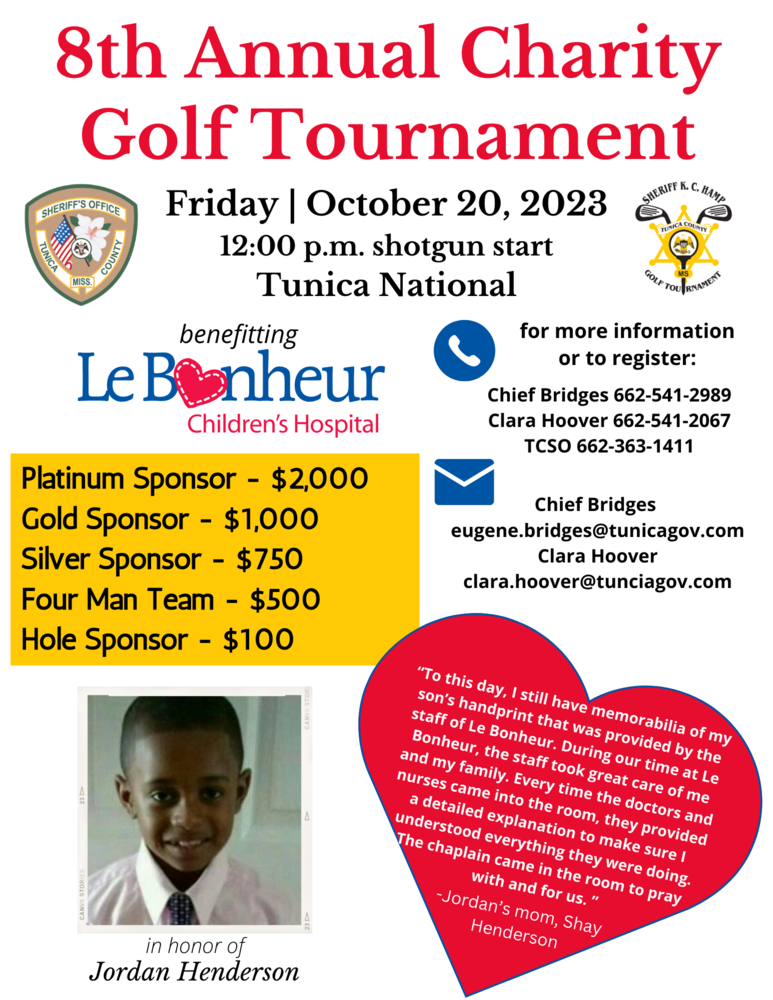 The Tunica County Sheriff's Office will host its 8th Annual Charity Golf Tournament on Friday, October 20, 2023 at Tunica National Golf and Tennis located at 1 Champion Lane in Robinsonville, MS. Lunch shall be served at 11:00 with a 12:00 p.m. shotgun start. This year the tournament is to be held in honor of Jordan Henderson.
As in previous years, proceeds from this tournament will benefit the Le Bonheur Children's Hospital located in Memphis, Tennessee. Le Bonheur serves as the region's primary, level 1 pediatric trauma center. Being recognized among the nation's "Best Children's Hospitals" by U.S. News & World Report for 12 consecutive years, Le Bonheur is always on the side of children, advocating on their behalf so we can provide them with the care they need. From the ordinary bumps and sniffles of childhood to its most life-altering extremes, Le Bonheur Children's is prepared for whatever a child's life might throw at us.
Tunica County Sheriff's Office is excited to host this event for its eighth year and hope you will join us. The cost of team registration is $500 ($125/person) and includes lunch. We are actively seeking both individual and corporate sponsorships currently.
If you are interested in participating, sponsoring, or would like more information, please contact Chief Eugene Bridges at 662-541-2989 (eugene.bridges@tunicagov.com) or Clara Hoover at 662-541-2067 (clara.hoover@tunicagov.com). Additionally, you may contact Tunica County Sheriff's Office at 662-363-1411.
Jordan D'Shawn Henderson was a 7-year-old, healthy boy who loved basketball and baseball. If asked, he'd tell you the month of December was the best month of all! This is when Jordan celebrated two very important times - Christmas and his birthday! Jordan adored all things red - it was proudly his favorite color. He is remembered for his smile that could light up an entire room with its radiance.
Suddenly and unexpectantly in April of 2015, Jordan developed a fatal infection of bacterial meningitis. This is an infection in which the membranes covering the brain and spinal cord become infected and cause inflammation. Jordan's mother rushed him to Le Bonheur Children's Hospital where he was diagnosed. Over the course of his time in the hospital, hospital staff took extra time to provide a detailed explanation and deliver peace of understanding regarding his prognosis. Unfortunately, April 22, 2015, Jordan passed away due to complications from this infection.
What his mother remembers most in her son's final days, was the extension of compassion and care received. The hospital sent a chaplain to pray over the family. The Palliative Care Team casted handprints of Jordan's hand that are still cherished to this day.
Tunica County Sheriff's Office continues to support Le Bonheur Children's Hospital because of the incredible standard of care and to help fund the team at Le Bonheur research for new ways to treat and cure pediatric diseases.